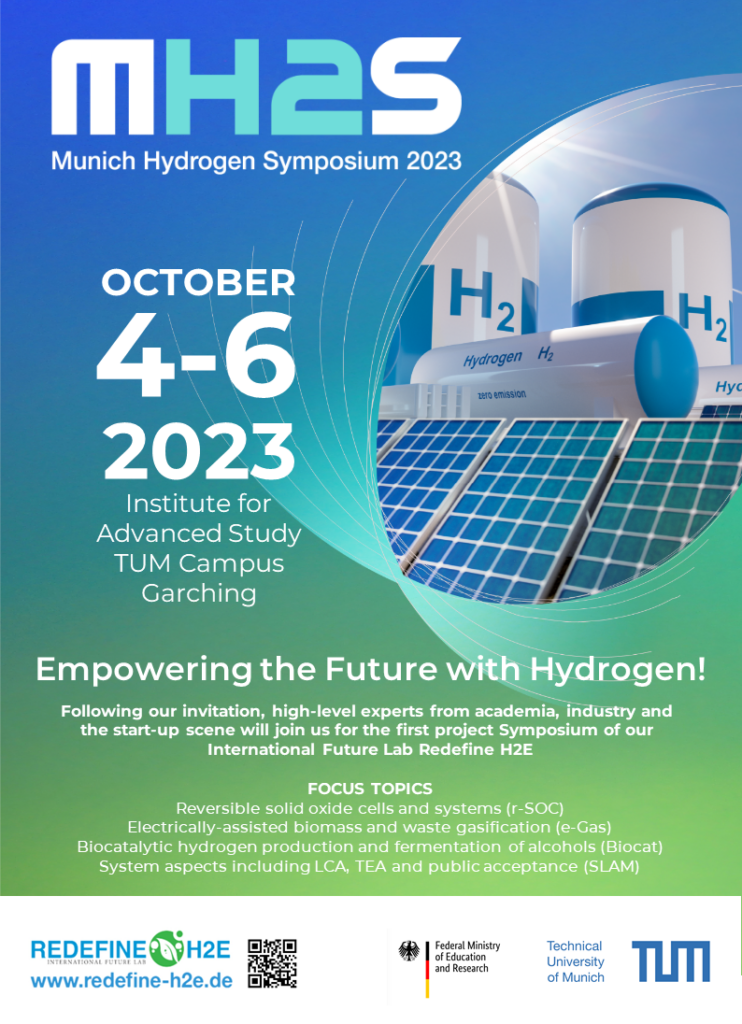 OcTOBER 04.-06. 2023 - Institute for advanced studies
MH2S 2023 - Munich Hydrogen Symposium
Empowering the future: Hydrogen experts unite!

We are thrilled to announce our upcoming Munich Hydrogen Symposium 2023 – featuring an exclusive lineup of internationally renowned experts who will present their unique insights on some of the most promising hydrogen technologies.

🗓️ Wednesday, October 4th – Friday, October 6th 
📍 Institute for Advanced Study, TUM Campus Munich-Garching
🌍 Agenda: Click here
🌟 Poster Session: Your Chance to Shine! 🌟

Due to the high interest in MH2S 2023, we have decided to open the doors to a limited number of participants for a special Poster Session at MH2S 2023! This is an excellent opportunity to showcase your research and insights in front of a prestigious audience of global hydrogen technology experts.
If you have groundbreaking research, innovative projects, or fascinating findings related to hydrogen, we invite you to participate in our Poster Session. Share your work, engage with fellow experts, and be part of the conversation that is shaping the future of hydrogen.
To secure your spot in this exclusive session, please send your proposed title and short abstract (max. 200 words) to h2symposium.les@ed.tum.de by September 20, 2023!

📣 Help us spread the word by sharing this post! Let's come together to advance the science of hydrogen and pave the way for a sustainable future.

🔗 For inquiries, contributions, and Poster Session submissions, please contact us at h2symposium.les@ed.tum.de
#MH2S2023 #HydrogenSymposium #REDEFINEH2E #Science #TUM #HydrogenTechnologies #KnowledgeExchange #ScientificExcellence #PosterSession #CallForSubmissions
Chair of Energy Systems
TU Munich
Boltzmannstraße 15
85748 Garching b. München
Germany